○ Setup your Digital Portfolio
○ Grow your online presence upto 99%
○ Sell More Online
○ Grow your Business to 100X
Millions of users searching for your Business and Services
* The numbers are just indicative of volume of online customers/searches
AI / Bi & 360° Online Marketing
HyperDizital is a team of Professionals & Subject Matter Experts from different industries & functions.
Web Development & Designing
To make your website more appealing, user-friendly, and customer-friendly, HyperDizital has created a platform with superior web design and business principles.
SEO & Organic Marketing
HyperDizital's SEO campaigns include data analysis, keyword research, web site architecture and navigation, META tag implementation, link building and development, content management, blog and forum posting, and video feed optimization.
Lead Generation
HyperDizital will create a buyer persona for you. We will ascertain your buyer persona's preferences. We will assist you in generating leads for your business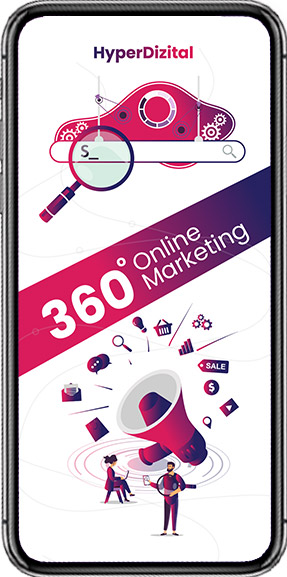 Social Media Marketing
HyperDizital's social media professionals will help you reach your target audience, promote your products/services, build a solid relationship with your audience, and improve engagement.
Content Writing
Our content is 100 percent unique and keyword-targeted. We have a team of expert writers who will ensure that your content ranks highly in search engines.

Paid Ads
HyperDizital's sponsored search team is experienced in managing campaigns on the most complex platforms, including Google Ads (formerly Google AdWords) and Microsoft Advertising (formerly Bing Ads).
Purpose & Performance Oriented Programs
New Customer Acquisitions Programs
The process of onboarding new customers or clients to your business is referred to as customer acquisition programs. HyperDizital's customer acquisition professionals employ specific techniques to entice potential customers to take action. The goal of this process is to develop a systematic, long-term strategy for acquiring new customers and increasing revenue for the company.
Digital Branding Programs
Digital branding is a brand management technique that uses a combination of internet branding and digital marketing, online marketing to develop a brand over a range of digital venues, including internet-based relationships, device-based applications or media content.
With HyperDizital's Digital Branding Programs you can work on
The inter-relationship between paid, owned and earned media
Consumer change and how it is altering brand communications
Content marketing and how owned content can be distributed across company-owned digital media assets
The value of Earned Media which interests your audience
Customer Engagement and Follow-ups
The idea of improving client service and assistance is prevalent. But it's more. More brand spending isn't enough. A transactional and insignificant customer mindset Instead, improve customer experience. Customer relationships, not just money, must be valued. So keep engaging with customers.
With HyperDizital's Customer Engagement Programs you can:
Set a goal for successful customer engagement.
Identify where and how customers should engage in both the long and short term.
Gather feedback from internal and external stakeholders as well as customers.
Customer Retention Programs
Client retention management is a structured approach to managing current customer relationships to encourage them to remain longer and spend more.
Our Customer Retention Programs frequently manage to
In B2B, our customer retention team works closely with individual accounts and clients to retain and grow them.
In B2C, we have a customer retention strategy, but it's difficult to develop 1-to-1 relationships with every customer. Instead, the customer retention team develops a strategy and collaborates with other departments to execute it.
Customer Base Building Programs
From a service provider's perspective, customers are God. They want loyal customers, so they build a customer base by providing high-quality services. This base is made up of various loyal customers.
With HyperDizital's customer base building programmes, you can start gaining clients/customers right away.
Know your prospects or customers.
Time-sharing: keep existing clients and find new ones
Lead Generation Programs
Lead generation is the process of attracting prospects to your company and increasing their interest through nurturing, with the ultimate goal of converting them into customers. Job applications, blog posts, coupons, live events, and online content are all ways to generate leads.
With HyperDizital's lead generation programs, you can reach out to potential customers, convert them, keep your current customers, offer discounts, and much more.
Customer Feedback Programs
Customers who are loyal to a company grow it faster than sales or marketing.
However, if we never solicit customer feedback, we will never know what motivates customer satisfaction. It will be impossible to create customer loyalty if we do not understand what motivates satisfied customers.
A company can use HyperDizital's customer feedback programs to:
Request feedback from customers.
Sort the feedback
Take action on the feedback
Follow up with customers who provided feedback
Innovative and Result Oriented
Products & Services
HyperDizital'99
Optimising Online Presence
The Trademark Online Marketing Service truly based on Contents and Organic approach.
Designed for Businesses to save cost of online ads, still optimizing the online presence.
An Exclusive Online Marketing Services containing all the digital marketing aspects in one service pack. Its also open to add-on services to Be-Spoke Online Marketing Services
DIGITAL BUSINESS DASHBOARD / ECARD
AI-Based Digital Marketing
An Exclusive and Innovative Marketing Tools to Manage the Online Marketing Activities for Optimum Online Growth.
The Tool is Designed for online traffic and data analysis, mapping and managing online marketing activities, analyzing online consumer behaviors, keywords analysis, and planning, etc.
It provides the digital growth dashboard to management for daily tracking, planning, managing, and controlling online marketing activities.
MARKETING SPOC
End to End Online and Offline Marketing Activities
Exclusive Service Programs to take care of end to end Marketing and Marketing Operations by Professional Marketers, Tools, and Technologies
Marketing SPOC is a Single Point of Contact for you for all your marketing needs and activities.
Marketing SPOC reduces your marketing cost and increases your marketing productivity and performances.
CUSTOM SYSTEM
Use Latest Technologies
This Custom System is a technology service pack that offers the latest and wide range of apps, tools, systems at a very reasonable cost to use in your daily business activities.
The Apps are from Microsoft, Google, Facebook, Hubspot, MailChimp, etc which are available for customization and use at a free or reasonable cost.
Custom System Program not only facilitates the usage of latest technologies and apps but also reduce cost and management time.
eCOM SPOC
Sell More Online
End to End Bi Powerd e-Commerce services starts from basic Setup to Selling products Online on multiple e-Commerce Platforms.
Designed for Online Sellers to sell more on e-Commerce platforms and increasing digital revenue.
Exclusive Service Pack currently in Indian Market include e-Commerce Apps, WhatsApp Product Catalogues and others many.
Have Some Questions?
Want to get in touch? We'd love to hear from you. Here's how you can reach us.
Address:
HyperDizital, office no.- 103, Gauri Complex, CBD Belapur, Navi Mumbai. Maharashtra, PIN- 400614.